24 Heures Du Mans 2016
…By Ambulance!
We went with Lycian Events who run "Village On The Curves", and they score full marks. They're a family-run group and very friendly. They set up a private camp site on the Porsche Curves inside the general event camping area.
For those who haven't been to Le Mans before
It's easier if I explain a few basics about the event and what goes on - a few unwritten rules.
First off, it's a festival at which a motor race happens. The next closest party atmosphere I've experienced is Glastonbury. Everyone's there for a common love, there's people from around the world all squished together in a field awash with beer and noise.
Second: It's a British event. Sure, it's in France, and there's people there from every country… but overwhelmingly it's British. The French do their best to ignore this.
The camping is very "festival" style, you book a field (most are inside the track) and then it's down to you to park up and claim your spot. There are a few portaloos scattered round each field but they take a hell of a pounding over the event. Also, when the race is ending the local ne'er do-wells have been known to pick through the camp sites for items of interest which aren't bolted down so it's good practice to hide and secure all your junk before you head off for the chequered flag.
Being a British event you'll need British commentary - so an English language radio station (Radio Le Mans) is set up for the course of the event with a team of truly entertaining commentators. You'll see nearly everyone sporting a small FM radio & headphones as they spectate. You can buy these beforehand on eBay for a couple of quid, or from a seller at the track for only five times the price.
You can spectate from loads of places round the track, but you need a ticket to reserve a seat in a grandstand. As all sorts can happen in 24 hours, it's worth having a seat and it's worth the extra for that seat to be under cover. We splashed out on seats in the ACO grandstand. Being the race organisers, the ACO stand is about the best ticket in the house and we were right opposite the pit lane, within view of a jumbo TV and the start/finish line & podium. The ACO stand has its own bar, cafe, and toilets so it's about the best sorted you can be.
If you're inclined to plough through crates of booze, it's customary to construct a beer bottle pyramid alongside your camping area. Bonus points are awarded for architectural flair.
Going with Village On The Curves meant we had a private campsite with 24/7 security and decent facilities, including hot showers. They also serve food and booze in a marquee and have a fully stocked bar trackside. We mostly self-catered on both counts. They run regular shuttle buses to useful places at all hours and generally do loads of stuff to make life a bit nicer.
This turned out to be one of the wettest events for a long time, it had rained for a week solid by the time things kicked off. The whole place was a mud-bath, those who'd already arrived were basically stuck where they were and those arriving were often having to be pushed to their pitch or just abandoning their Ferraris by the side of the road and walking in.
Sir is perhaps regretting having neglected to tick the option box for the 4 wheel drive when ordering his Fiat.
Likewise, this gentleman failed to anticipate the necessity of mud tyres and suspension lift for his beetle.
We planned to arrive in time for Thursday's practice sessions but there were long delays getting into the camp sites, not sure if that was due to the weather or just general popularity & French organisation…
We have to admit to feeling slightly smug being able to drive straight to our camping spot as others were busy pushing and shoving stuck Porsches and BMW's around the place. Lycian's site is right on the Porsche Curves, which means you can wander right up to the track and spectate whilst remaining within arm's reach of the bar.
We got set up and watched a bit of the evening's qualifying session in the rain, which was atmospheric but very hard to photograph.
Friday Day: Pit walk
Friday is pit walk day, which is really cool. All the teams lay out their stuff in front of the garage and the pits are thrown open to the unwashed masses. There's a fair bit of autographing by drivers and whatnot.
A Lego model of the Straka Racing car, on the wing of the Straka Racing car. Well, you would, wouldn't you?
Now I know you can get tear-off windscreens I really want one!
Friday Evening: Drivers' parade
This was the first time I'd tried to get to it, and we found that you really have to arrive hours in advance to get a good spot. The drivers and various other great and good are paraded through the town in a selection of vehicles, with sponsors joining in throwing free stuff to the crowd a bit like the Caravan of the Tour De France.
Rebellion Racing set off for the parade in understated style.
Having not arrived hours early, we didn't see a lot and didn't get any decent photos. Move along!
Friday Night: Official unofficial drunken fireworks night
There's a general festival atmosphere about the place anyway, but Friday is the night. There were some guys in the next camp who had a full size train horn connected to a CO2 canister - it was later disabled in a daring midnight raid by some public-spirited boozy ninjas.
This guy did a lap of the roundabout, stopped for a photo with the Gendarmes, and continued happily on his way. Kinda sums up the atmosphere of the place!
Bereft Belgians mourning their bottle of booze.
No grandstand ticket, no problem! This was one of the safer constructions we saw.
Saturday: Race Start
Wikipedia has a comprehensive report on the race so I won't attempt to write my own account here.
The weather was just about holding as the cars lined up on the grid…
As you can see, it's quite packed - 60 cars in 4 classes all on-track at once.
Jean Todt, Brad Pitt, and Jackie Chan turned up - Jason Statham was lurking somewhere too.
10 Minutes later, the heavens opened:
The race of the tyre trollies
If the phrase "a very wet Brad Pitt" doesn't get more traffic to my website I don't know what will. It's factually correct too - this is Mr Pitt waving the starting flag.
A couple of hours later and they're working on their tan in the pits.
With 60 cars racing and a tank of fuel lasting maybe an hour, the pits are never empty - they regularly have to parallel park when the pits either side are busy.
And so on into the night…
Sunday: Race to the flag
And into the morning… they really do race, hard, for the full 24 hours.
Toyota have been trying to win Le Mans since 1985 and would only be the 2nd Japanese company to manage it. They'd been battling Porsche all the way and were finally in the lead, with a few minutes on the 2nd placed Porsche. The media were crammed into Toyota's garage to record the celebrations, the Porsche team were busy practising their magnanimous 2nd place faces and the commentary team were cautiously describing just how much this would mean to Toyota to finally break their duck.
Then, as the chap with the chequered flag makes his way out, ready for the final lap, the Toyota grinds to a standstill on the finish line, with 3:25 remaining on the race clock:
100,000 people were standing in stunned silence, the commentators were struggling for words, the media now found themselves filming a tragedy rather than a celebration. The Porsche team couldn't believe what was going on, the Toyota team were in absolute despair. It was all totally unreal. As Toyota's own press release said: "No-one would ever have believed a movie if it ended like this".
It's not often with a crowd of 100,000 motorsport fans there's not a dry eye in the house, but everyone was feeling what the Toyota crew were feeling.
Toyota Loses Le Mans To Porsche In Shocking, Heartbreaking Race Ending
In the end, the Toyota limped round its final lap too slowly to even be registered as completing the race - leading to a rule change in 2017.
When they'd peeled themselves off the ceiling, the Porsche team made a point of visiting the Toyota guys and shaking their hands - a win is a win and all that, but they knew just how close a run they'd been given by the Toyota guys.
Sunday: Post-race display
After the race, the top cars from each class are wheeled off for scrutineering and the rest are lined up on the track for the spectators to get up close & take photos. A nice touch. Race cars look far better after the race I reckon.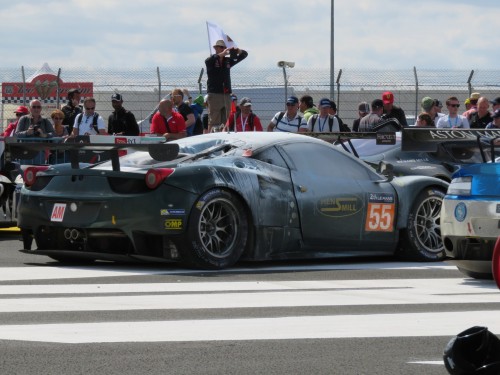 Fin
Yes, we were very smug at not needing to be towed out of the campsite on Monday too!
We woke up to a tractor recovering a manitou which was failing to recover a VW camper which the G-Wagen in the background had presumably failed to recover…