Camper Conversion Mk2
A.K.A "Camper Conversion Mk2: Electric BoogaPortaloo"
Sorry.
Anyway...
After building Mk1 and going to Switzerland, we came back with a laundry list of things to change, improve, sort out, finish off…
Things we didn't quite finish
Toilet door was a shower curtain

Kitchen tap was not plumbed in (most camp sites have facilities anyway)

Roof vents were blanked off

Night heater was un-tested
Things we decided needed to change
The f*$%#ing futon we bought to act as the seat & mattress was just hateful - it was uncomfortable, weighed as much as the moon, and moving it was like trying to pick up a sleeping cat sedated hippo dipped in grease.

The bed itself worked well but was a bit of a faff to put up & take down, and after staggering back from the pub in the cold it wasn't a welcome chore.

We needed to get the night-heater working, it can get chilly in the night in Switzerland

Gas bottle needed to go outside

Some sort of mains-hookup might be good

Rear step was a bit of a pain
Sneak Preview
I haven't finished writing this all up yet (and, indeed, some of it's not yet finished) but this came out so well I thought I'd post a picture up:
Night Heater (Eberspacher / Webasto)
It became clear that we could do with some sort of heating in the back. The ambulance was factory-fitted with an Eberspacher B3L petrol-fired air heater, very nice but not in working condition when we acquired the vehicle.

It turned out to be beyond economical repair - the motor was totally seized (replacement part cost more than a new heater!) and the body was corroded - the exhaust port half snapped off just removing the exhaust pipe:
So, after a LOT of searching (petrol ones are quite rare) we came across a VW breaker selling an identical unit - brilliant! It should plug straight in, saving lots of hassle. We hit "buy it now" and waited. And waited….
…eventually, it turned up, and the outlook was not brilliant:
There was every type of wire in there (automotive, mains flex, speaker wire, doorbell, one battery lead with terminal, curly telephone cord…), plus an entire fusebox, a lump of wood, a split charge unit that looked like it had been living in a flower pot, sparky tape, sticky tape, masking tape, bad crimps, choc blocks, scotchloks, basically everything except the proverbial dead budgerigar. Still, the seller had said it was "tested working" so I set to and untangled it, taking the "easy" option of just unplugging the heater from the rats nest (thankfully the OE connectors were intact) and plugging it into the ambulance. Aaaaaand…. nothing.
Bugger.
After a lot of farting about it turned out we'd been sold a dud, the controller had been full of water at some point and the internals were clearly damaged:
However, even substituting our controller didn't kick it into life. At this point I ran out of goodwill and sent it back, we'd paid a fair bit for it for the benefit of "convenience" and it was no longer convenient.
After a loooong delay, the seller took it back and then after another loooong delay the refund arrived. Not impressed.
So, after a further trawl of eBay we found a newer Webasto ST2000, that took a little more fitting but ultimately worked lovely and uses less power (~35W compared to ~50W for the Eberspacher):
There's also an issue of ducting - the original install has a big duct coming up through the floor just about where the bathroom door is, not ideal. I made a new lid of the heater box that brings a vent directly out of the heater lid just near the corner of the new bed. A steel plate blocks the old hole in the heater enclosure off, and an aluminium plate (actually the offcut from the roof vent hole drilling) was turned down on the lathe with nice tapered edges and slipped under the lino to drop into the hole in the floor.
Finished floor vent at end of bed:
Rear Step
The rear step was a bit of a faff as you have to open both doors to use it, and it leaves a gap under the door when it's out. So, you've got to retract it at night, but once you're inside it's quite hard to open both doors, lift the step up, and close the doors again without falling face-first out of the back.
Dave had an offcut of ladder from his vastly over-engineered custom Ibex roof-rack / roof-tent install, and amazingly it was absolutely perfick for the gap we had:
We couldn't have made anything that fitted better - 4 bolt holes and a couple of clips and it's sorted! Thanks Dave!
Bathroom Door
We needed a door, but it needed to be something that could be opened when the bed was out. We found these cheapo plastic concertina doors on eBay, a whole £12, cut it to length, nail the track up and clip it in place. Simple, cheap, does the trick: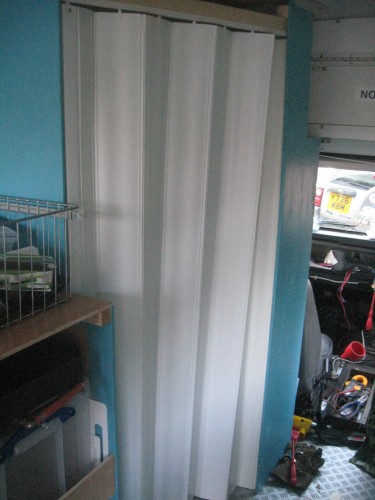 New Bed
Very exciting, this. Rock & Roll beds are all the rage in the VW camper world, but they are often quite nasty (for the price) and poorly designed (finger traps, no storage under them despite taking up loads of space), not to mention the fact they're usually built to work facing along the vehicle rather than across.
A typical rock-n-roll bed, yesterday:
Anyway, after a bit of thinking and drawing and more thinking and meditating we eventually came up with a sort-of idea. A bit of mocking up with balsa wood & superglue to prove the concept:
The top frame can slide out to make a bed, but the top can also pivot up to allow access underneath. The pantograph hinges (phwoar!) mean the back of the lid doesn't hit the wall on the way up and that the base cushion doesn't get squished.
Let's cut some steel!
Chamfering the corners was done because we want to be able to get in & out with only one back door open without banging shins on a sharp corner - at the other end, the bathroom door juuuust clears the corner this way! It did cause some head-scratching but turned out OK in the end.
The bed we saw on eBay used drawer slides to keep everything in check, we didn't have the clearance for those what with the chamfered ends, so I added some guide rods for the top to slide along to keep everything going in roughly the right direction: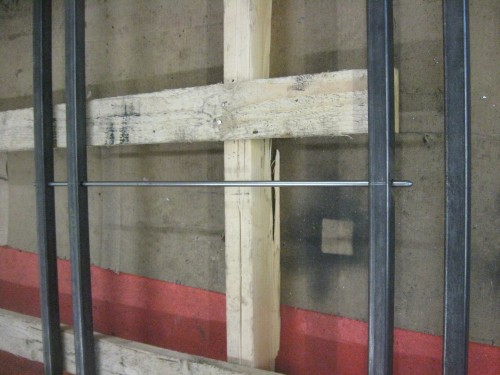 Pantograph hinges allow top to open without banging against the wall:
Slats from Ikea:
Drawers in one end - they butt right up against the wheel arch:
Helen's carpentry skills in full effect again:
There are 16 slats per side, 2 holders per slat, 2 holes per holder… 128 holes later:
It took ages to wash all the protective oil off the steel before painting, Helen spent a loooong time rubbing this down. Then - a coat of satin black, cut the slats down, pop the holders in, Bob's your uncle:

The end slats needed special treatment:
Panels on, drawers in, looks rather smart:

Opening flap in the end to get to camping chairs etc.:
An action shot of the drawers - we need to make a little cover piece to hide the ends of the runners when closed:
And of course, it's a convertible:
Cushions were sourced from the rather obviously named thefoamshop.co.uk, custom covers from eBay seller goodfabricstore, plus some patriotic decoration from The Range:
Overhead Kitchen Cupboard
Having a curved roof with angled corners really makes life hard sometimes…
Offcut of LED strip provides under-cabinet lighting for the win.
Removing old wiring
The ambulance originally had a mains hookup for a battery charger & block heater, however the both had long since gone and the hookup box on the rear outrigger was crusty as anything. This also meant there was quite a lot of extra cabling knocking round underneath making the place untidy, so for now we've removed it all:
It also had electric windows fitted by the previous previous owner, for ease of paying foreign tolls in a RHD vehicle. Unfortunately the mechanisms were past it, so we replaced them with original wind-up versions. I took the opportunity to remove the switches and wiring:
I then filled one gap with an indicator insert that shows the status of the engine cooling fans, and re-purposed the siren switch (horn icon) to turn on the USB charging sockets fitted in the dash, they have an annoying blue LED (my pet hate) and putting them on a switch means they can be switched on when parked if needed rather than being on the ignition live. The final slot currently has the serial cable for the Megasquirt ECU poking through, when I get a moment I'll make a proper insert to tidy it up.
Better Battery Cradle
The original under-chassis battery cradle wasn't perfect, it was a bit of a pain to lift a battery into as it was quite a tight fit, and as it turned out the Trojan battery we had was ~5mm larger and wouldn't fit in. So we made a new one, thanks to Mike for the loan of his metal folder.
Old cradle left, new cradle right:
It picks up on existing holes in the outriggers so is very simple to fit. It's 1.5mm steel, with the front lip folded right over - this gives it a bit of strength and also makes sliding a battery in much easier. Battery is held in with a regular bar style battery clamp.
LED Lights
The original ceiling lights were fluorescent tubes with two power settings, approx. 20W per tube which adds up when running on battery. I made some aluminium panels to replace them with LED strips, which are a bit brighter and much lower power - 2.8W on single row ("low" power), 8.6W with all three strips lit:
They re-use the original covers, and the much flatter profile also means we can stick some 25mm celotex in the original hole, making the ceiling that bit more insulated.
Roof Vents
We'd run out of time with the original conversion and ended up riveting a plate over the location of the original (very rusty) roof vent cowling. After much searching (and having to sit down after seeing some of the prices) we plumped for some cheap (£8) mushroom vents from eBay - these come apart so you can butcher them to suit and then screw them back together. I took the plate we made off the roof, cut two 100mm holes with a hole-saw (which damn near killed my poor drill!) and then riveted the vents on from underneath, countersinking the rivet heads to keep the panel flush and adding plenty of silicone sealant.
We then added some silent PC cooling fans in the roof to provide a forced airflow, a cheap eBay PWM controller allows us to vary the fan speed: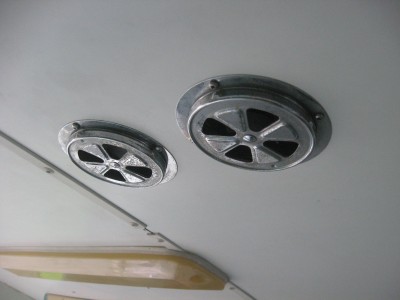 The original chrome vents then fit over these. I placed the original flyscreen mesh above the fans when fitting, so we should have fly-free airflow.
Tap & Sink
In Mk1 we'd fitted a sink and grabbed a couple of plastic jerry cans for fresh & waste water but hadn't got as far as sorting out a water pump. Thanks to Mike scavenging bits and bobs from work, he gave us a ShurFlo 12v pump with pressure-sensing switch which is a nice bit of kit. We bought a caravan tap with internal switch from eBay.
I decided to plumb it in using push-fit tubing as it's relatively cheap, convenient, and the tubing and fittings are quite compact.
Drawback #1 was the caravan tap had hose-barb type connections, which meant the pipe needed to be 10mm bore. No problem, but 12mm outside diameter push-fit stuff is a bit more spendy than the usual 6mm stuff I use for things like axle breathers and diff locks - and the pipe is substantially more rigid too!
Anyway, I bought a handful of push-fit adapters and a length of pipe from Hyphose and set to it - cue much tinkering under the sink, getting a stiff neck, with water running up my sleeve. Test run #1 saw water peeing out of every joint, turns out the pneumatic fittings are machined for a different way of seating / sealing than the pump threads.
So, out with the PTFE tape, re-make everything (more tinkering under the sink, getting a stiff neck and wet sleeve), fingers crossed seems to work OK…
Having wrestled the (quite rigid) pipe onto the (very brittle plastic) tap, and wired the pump up, I discovered another flaw: The tap was a mixer tap, we were only using the cold side, but as you turn it on it "mixes" the hot side as well. With no hot connection, the cold water shoots back out the bottom of the tap through the "hot" pipe. Bugger.
Another trip to Hyphose for more push-fit bits and I had a tee made up to push water up both sides of the tap. More wrestling round under the sink with water running up my sleeve but it worked eventually. Winner!
A day or two later I was looking at wiring the pump in properly, turned it on and discovered water spraying out under the sink again - aargh what now???
It turns out that the brittle plastic tap connector couldn't take the (quite gentle) pressure from the plastic hose bending to reach, and had snapped off overnight!
Right, that's enough of that cheap junk, off to Screwfix for a standard kitchen tap, you get a pair of them for £15, they're solid metal, no pratting about.
Cue further faffing about under the sink with water running up my sleeve to change everything over. Fired it all up and… it all leaks! Turns out even PTFE can't make dissimilar flanges seal properly.
Not giving up yet, I bought some plumber's sealant, stripped everything back, applied sealant to all the threads, re-assmebled (yet more tinkering under the sink, getting a stiff sleeve and wet neck), tested it and IT STILL LEAKS. Aaaaarrrgh sodding thing.
At this point, the plumbing was holding up the installation of the fridge and some other kitchen bits so I had to make a decision. Off to toolstation for a collection of 15mm JG Speedfit fittings and pipe - this is more cumbersome than the pneumatics stuff (and the pipe is MUCH stiffer) but I figure it should seal properly on "domestic" threads. So, back to prolonged tinkering under the sink, getting a really stiff neck and soggy sleeve, and at long flippin' last we have a tap that doesn't leak! The downside is you HAVE to use 90deg fittings to turn corners, the pipe has very little flex, and I'm not sure we'll be able to get the fresh water tank in & out without actually disconnecting the fitting, rather than just pulling the pipe out of the neck of the jerry can. But what the heck, if it means we have a working tap I'm happy to be out from under the sink!
I do still need to make proper "bungs" for the jerry can necks to stop water sloshing out when on the move
Stereo
Not showing the construction as this took way too long, the first try went horribly wrong, and behind the scenes it's not as tidy as I'd like. Also, I can't remember who borrowed my 30mm Q-Max punch but I ended up making a new one on the lathe out of sheer bloody mindedness, which worked nicely but took far too long.
The stereo is a dirty cheap (£15) Chinese eBay offering which has no CD mechanism - it plays radio, bluetooth, USB stick, Aux input, and SD cards, critically it's also incredibly shallow. The unit itself is ~100mm deep but if you dismantle the case the middle ~75mm of it is just air, so we binned the case, mounted the front panel to the front, and hung the other half just behind it resulting in the least obtrusive dash binnacle we could manage.
Speakers were cheapy Halfrauds 6×9 jobs, wild claims about their wattage on the box are given the lie by the fact they're supplied with doorbell wire to hook them up
but that's fine as the eBay stereo is not going to trouble their power-handling abilities. Some head scratching required to make the mounting panels which hook into (yet again) existing holes in the interior and form an angle with the ceiling in the cab - CAD1) to the rescue!
The Fridge
After the failure that was the Electrolux 3-way fridge (TL;DR - they suck on battery) we decided to bite the bullet and go for a compressor type - specifically the popular Waeco CRX50 (we wanted CRX65 but no-one had any and Waeco's computer system was in meltdown). We stumped up the extra for the new CRX over the last-generation CR as they are more efficient, and that knocks on to the battery & charging requirements… much like lightening your race car, savings lead to more savings which lead to more savings.
We calculated that, with a modest solar panel & our existing modest 100Ah battery we should be able to keep the beers cold and the lights on for a week, give or take. This was our "worst case", as usually driving around will replenish the battery daily. However, at events like LeMans, you're parked up unable to drive for days at a time.
The Waeco does make noise (a low hum / vibration) but not too bad, we relocated it to the "foot" end of the bed so it's not right next to our heads when sleeping. That also gave us a new, more spacious cupboard under the sink.
Original and new improved:

Beer cupboard created for easy access and to stop things rolling around: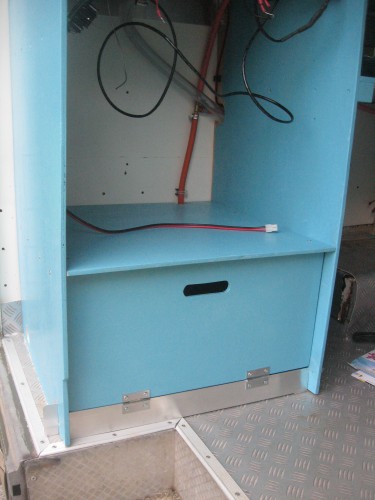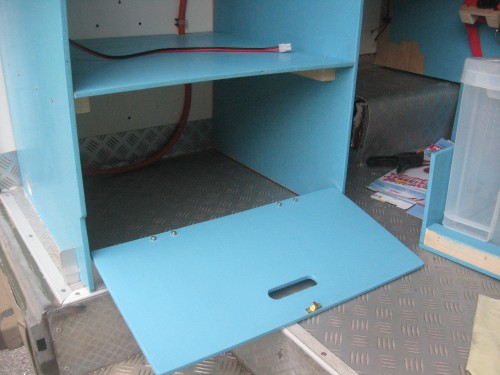 We then created a cooker-shelf above the fridge:

The Waeco is narrower than the Electrolux but its extra internal depth actually makes it more practical, and it holds a surprising amount of stuff. Being able to lay bottles front-to-rear in it definitely helps.
Solar Power
After much research and a bit of maths, we arrived at the plan for the Mk2 electrics setup, which meant fitting a solar panel. In keeping with not making any new holes in anything, it was mounted on a frame that picks up the roof-rack mountings and uses a waterproof AMP connector in place of the wiring for the blue flashing light to allow it to be disconnected.
AMP connector in place, aluminium angle riveted into old holes to plug leaks and give a little protection:

PWM Solar controller got upgraded to an MPPT type with a display, because it was dirt cheap on eBay:
More details on the electics in Mk2 electrics setup page.
Control Panel
We needed somewhere to switch the water pump & under-cupboard lighting, a voltmeter for the 2nd battery, control for the ceiling fans and the Webasto, my paranoia wanted a gas shutoff for the internal gas supply, and Helen wanted a clock. The space in front of the sink suggested itself as you're not going to get much storage there, and the fuse panel is right behind it.
I had some very expensive vandal-proof buttons from CPC's bargain bin so knocked this up: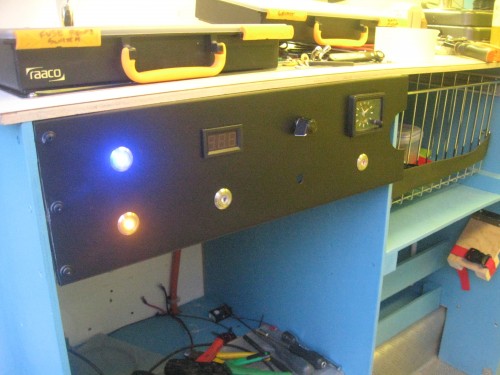 It's not as slick as I'd like but it does the job. The clock is a Range Rover (or possibly something else BL) dashboard one, and it soon became apparent that it ticks REALLY LOUDLY when you're trying to sleep!
It will be replaced in future.
To be Continued
Bathroom Light

Cubby Box

and whatever else I've forgotten
Typing in progress… stuff will appear here as and when I have time to add to it.
1)
Cardboard Aided Design