New Bed
Very exciting, this. Rock & Roll beds are all the rage in the VW camper world, but they are often quite nasty (for the price) and poorly designed (finger traps, no storage under them despite taking up loads of space), not to mention the fact they're usually built to work facing along the vehicle rather than across.

A typical rock-n-roll bed, yesterday.
Anyway, after a bit of thinking and drawing and more thinking and meditating we eventually came up with a sort-of idea. A bit of mocking up with balsa wood & superglue to prove the concept:
The top frame can slide out to make a bed, but the top can also pivot up to allow access underneath. The pantograph hinges (phwoar!) mean the back of the lid doesn't hit the wall on the way up and that the base cushion doesn't get squished.
Let's cut some steel!
Chamfering the corners was done because we want to be able to get in & out with only one back door open without banging shins on a sharp corner - at the other end, the bathroom door juuuust clears the corner this way! It did cause some head-scratching but turned out OK in the end.
The bed we saw on eBay used drawer slides to keep everything in check, we didn't have the clearance for those what with the chamfered ends, so I added some guide rods for the top to slide along to keep everything going in roughly the right direction: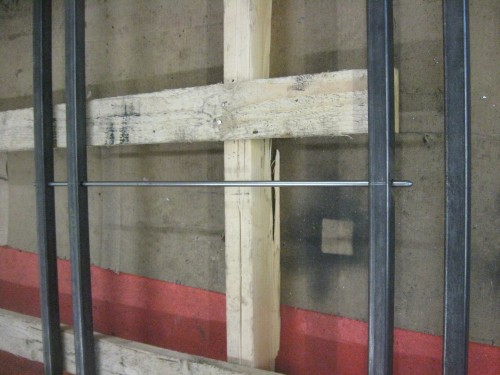 Pantograph hinges allow top to open without banging against the wall:
Slats from Ikea:
Drawers in one end - they butt right up against the wheel arch:
Helen's carpentry skills in full effect again:
There are 16 slats per side, 2 holders per slat, 2 holes per holder… 128 holes later:
It took ages to wash all the protective oil off the steel before painting, Helen spent a loooong time rubbing this down. Then - a coat of satin black, cut the slats down, pop the holders in, Bob's your uncle:

The end slats needed special treatment:
Panels on, drawers in, looks rather smart:

Opening flap in the end to get to camping chairs etc.:
An action shot of the drawers - we need to make a little cover piece to hide the ends of the runners when closed:
And of course, it's a convertible:
Cushions were sourced from the rather obviously named thefoamshop.co.uk, custom covers from eBay seller goodfabricstore, plus some patriotic decoration from The Range: