Roof Vents
We'd run out of time with the original conversion and ended up riveting a plate over the location of the original (very rusty) roof vent cowling. After much searching (and having to sit down after seeing some of the prices) we plumped for some cheap (£8) mushroom vents from eBay - these come apart so you can butcher them to suit and then screw them back together. I took the plate we made off the roof, cut two 100mm holes with a hole-saw (which damn near killed my poor drill!) and then riveted the vents on from underneath, countersinking the rivet heads to keep the panel flush and adding plenty of silicone sealant.
We then added some silent PC cooling fans in the roof to provide a forced airflow, a cheap eBay PWM controller allows us to vary the fan speed: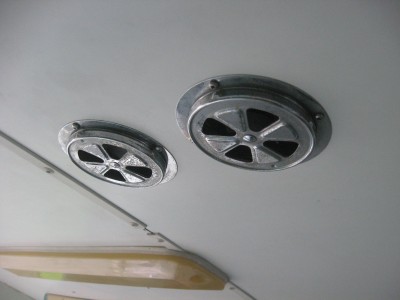 The original chrome vents then fit over these. I placed the original flyscreen mesh above the fans when fitting, so we should have fly-free airflow.