Assorted Mods
Little bits and bobs that don't warrant a page each.
Guards, Guards!
When we bought the 127 it had been fitted with a full set of underbody guards - diff guards, steering guards, fuel tank guard. We removed the fuel tank guard when we changed the tank as it's heavy and frankly the back of the ambulance hangs down so much you'd be hard pressed to hit the tank on anything.
Transmission
As bought, there's a Rocky Mountain extended & finned sump on the transfer box, and Difflock drain plug on the main gearbox. In 2017 we gained a roverdrive.
Wolf Rims
After a flat tyre on holiday we had the realisation that the original 1-ton rims fitted were tube-type, of which some had tubes fitted and some didn't, and the tyres were all tubeless type (as most are these days). After a bit of thought, we decided that the nicest option would be to buy a set of tube-type Wolf rims and go tubeless. It's dodgy running tubes in tubeless tyres, it's dodgy running without tubes on tube-type rims, and it would be a hell of a game trying to convince a foreign version of Kwik-fit to work on something like that.
A mate was almost stranded in Holland because they had non-standard size tyres on their Disco (and muds at that!), in some countries that sort of thing is totally verboten, so the locals can't help you even if they want to - the bits / experience / tools just don't exist because why would they?
Anyway, Helen did a bang up job spraying the wheels, stunning finish from a rattle can:
Shame it was raining when the glamour shot was taken…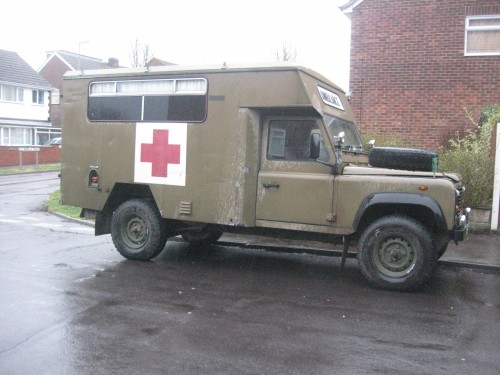 Puma Seats
The squaddie-grade black vinyl jobs that came with were in good nick but not exactly the best on a sunny day, and the passenger didn't even get a head rest or the ability to adjust the seat! A used pair of Puma seats were sort-of affordable, bolted in, and were more supportive and adjustable than the rest.
Sticker Board
We like collecting stickers of places we've been but couldn't decide where to put them (outside would ruin the original look), and if we filled up a space you can't "save" stickers that are attached to a vehicle - so a replaceable sticker board was made for inside the rear door:
Inline tank for Webasto heater
For some reason, since I changed the main fuel tank the petrol-fired Webasto has had trouble picking up fuel when there's less than 1/2 tank, which isn't ideal. After much farting about with the ridiculously spindly factory pickup tube I decided a better option was to put a small tank (a cheap eBay 3L "racing surge tank") in the return line that the Webasto could draw from the bottom of, and that the main fuel pump would keep topped up when running.

This pickup thingy is not easy to manoeuvre into the fuel tank filler neck with any degree of accuracy without removing the tank - which you can't do with it fitted!
Mounted just aft of the heater it tucks in quite neatly, and holds enough fuel (~3L) to run the Webasto flat-out all night:
P38 V8 Oil Cooler Blanking
On both V8 conversions I had been unable to find any info at the time on the exact plumbing of the oil system, so I'd looped short lengths of hydraulic pipe where the oil cooler should be. However, it was never very neat and it's an extra potential point of failure, so eventually I did a lot of poking around with a scrap front cover, asked on LR4x4 and replaced the pipes with blanking plugs - M20 thread if you need to know:
Before - very close to steering box!
After - much neatness!